Time To Make the Doughnuts Event
This is my donut submission for Tartlette's
Time to Make the Doughnuts Event.
If you want to participate you just need to check out the rules and post your blog post by 2/12/08. Easy!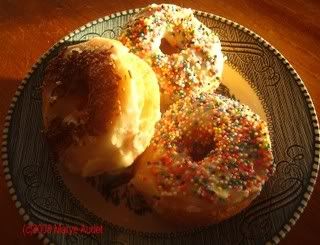 Donuts, doughnuts, sinkers...whatever you call them, they are popular at my house. i like them because hardly anyone makes homemade donuts anymore so everyone thinks I am amazing-and also because they are a cheap way to fill everyone up. That is a HAPPY thing.
I am always looking for a new recipe, and this one was good. Easy to roll, simple, straightforward. Sweet without being too sweet. The trick to good donuts is hot oil and a sticky dough. Have fun with it. :)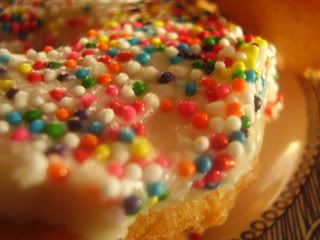 Breakfast Donuts
4 1/4 c flour
4 tsp baking powder
1 tsp freshly ground nutmeg
1/2 tsp salt
2 eggs
1 c sugar
4 tbs melted unsalted butter
1 c milk
1 tsp vanilla
oil for frying.
Sift dry ingredients together.
Beat eggs and sugar until light. Add cooled melted butter, vanilla, and milk. Add dry ingredients and mix until smooth.
Knead lightly on a floured surface, roll 1/8" thick, and cut with floured donut cutter. Be careful not to twist the cutter but cut straight down. Fry at 370F until golden on one side and then turn and fry until done. Drain.
Roll in sugar or frost with confectioners frosting.
Confectioners frosting:
1/4 c melted butter, 1/2 tsp vanilla, and add enough confectioners sugar in to make a good glaze.
Eat while warm. With coffee.
You can freeze these unglazed and heat in a 375 oven as needed.
posted by Marye at 10:58 AM